Mrs Elliott's recommended read - December
Mrs Elliott's recommended read - December
8 December 2021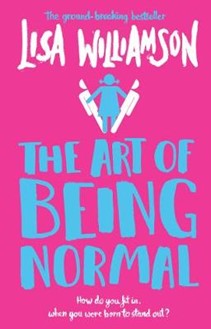 The Art of Being Normal by Lisa Williamson
Two outsiders. Two secrets. David longs to be a girl. Leo wants to be invisible. When Leo stands up for David in a fight, an unlikely friendship forms. But things are about to get messy. Because at Eden Park School, secrets have a funny habit of not staying secret for long…
Being completely honest, I was attracted to this book because of the cover, the colours and the blurb above! Happily, the book didn't disappoint once I started reading!
This is a book that allows us all to step into the life of David, born a boy but longing to be a girl. He feels his body belongs to someone else. Primarily the novel is about whether David will be able to pluck up the courage to tell his parents how he feels, terrified that they might reject him if he does. It's also a novel about friendship, understanding and acceptance and it reminds us all of just how important these behaviours are.
Mrs Elliott
English Teacher
AR Book Level: 4.8 (Red)
Advisory age range: Year 9 upwards.
Tags: English