Katie celebrates success at Preston's College
Katie celebrates success at Preston's College
14 May 2019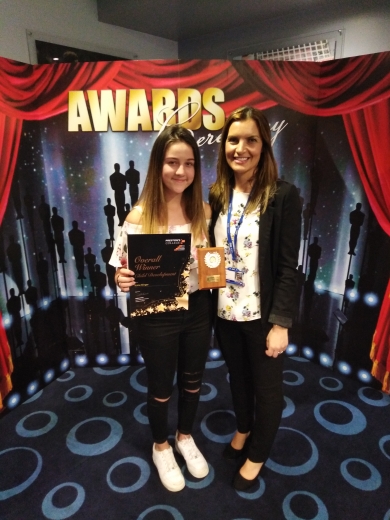 Two Penwortham Priory Academy students have won prestigious awards from Preston's College as they celebrated excellence in 14-16 vocational learning.
High school students from across Lancashire studying 14-16 vocational courses at the college were recognised for their hard work, dedication and stand out achievements over the last 12 months.
The awards were handed out at Wednesday night's presentation ceremony at Preston North End.
Year 11 pupil, Katie S, was named as the 'Overall Winner for Childcare Development'. Whilst Katie B, who was unable to attend the event, won the 'Employment Award for Childcare'.
Students attend Preston's College as part of their school week to train, develop professional skills and gain nationally-recognised qualifications in subjects such as construction, catering, motor vehicle, child development and hair & beauty.
Katie S's tutor at Preston College said:
"This student takes a mature approach to her studies and has proved to be an exemplary learner.
"After passing her exam in Year 1 she has focused on completing the desired coursework and has worked well independently displaying a positive work ethic and attitude to learning. She is determined in having a successful career within the Early Years sector.
"It has been an absolute pleasure to teach this young lady and I wish her every succcess in the next step of her education."
Priory's Mrs Holland added, "We're always keen to offer students the opportunity to combine vocational learning with their GCSEs and these courses provide young people with an important first step towards skilled employment."
The awards are for young learners who have demonstrated an understanding of innovation, self-development and employability, and were chosen from schools across the county who attend the college.