What's the music this week? w/c 6 June
What's the music this week? w/c 6 June
26 May 2022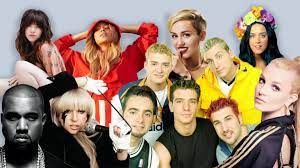 This week it's all about: The Noughties
The decade from 2000 to 2009.
In the 2000's, the popularity of teen pop carried over from the 1990s with acts such as *NSYNC, Backstreet Boys, Britney Spears, and Christina Aguilera dominating the charts in the earlier years of the decade. Contemporary R&B was one of the most popular genres of the decade with artists like Usher, Alicia Keys, Beyoncé, and Rihanna.
In Britain, Britpop and alternative rock were at the height of their popularity with acts such as Coldplay, The Libertines, Oasis, Travis, Dido, Blur and Radiohead.
Hip hop music achieved major mainstream status after the 1990s following the deaths of many prominent artists such as 2Pac and The Notorious B.I.G.
Country music continued to rise in sales, having a strong niche in the music industry. The genre saw the rise of new front-runners like Taylor Swift, Carrie Underwood, and Miley Cyrus, who appealed to a mainstream audience.
Electronic music was also popular throughout the decade; with genres such as trance, chillout, house, and Eurodance being popular.
The internet allowed for unprecedented access to music and made it possible for artists to distribute their music freely without label backing and for consumers to create their own unique playlists as opposed to being restricted to the CD album of the 1990s.
MABAL is music played through the school's tannoy system during break and lunch. Chosen by Mr Taylor, Lead Teacher for Music, this is designed to offer exposure to the curriculum in different ways, and support pupils' appreciation of music.
The focus is on one theme each week across a genre, a country or from history. The theme could also link to the season or an event in school, such as the production. Any further suggestions are welcomed - pupils should see Mr Taylor or email a.taylor@priory.lancs.sch.uk
Tags: Music