Italy - what a fantastic trip!
Italy - what a fantastic trip!
8 July 2019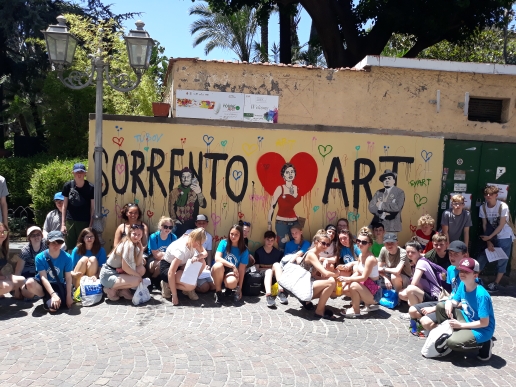 Italy trip to Sorrento and the Bay of Naples
Report by Mr Watters, Lead Teacher for Geography.
We left from John Lennon Airport, Liverpool, having met at school on the morning of Tues, 25 June at 3 am! With a great flight captained by one of our pupil's godfathers we landed safely at Napoli International. The heat was already rising, a feature which never left us for a minute of the trip.
We settled into our hotel, went by local train into Sorrento and had an acclimatisation meeting after the best pizza we'd ever had. We tried our Italian in the supermarket, one of two we visited.
We were under strict orders to keep our water levels topped up as temperatures hit record levels; two days were above 40 degrees! Thankfully there was a decent breeze coming in off the Bay of Naples.
Teachers, led by Mr Watters, took us up the active volcano Vesuvius. He kept us well informed about previous eruptions. In particular we heard about a former teacher whose father had served in Naples and witnessed the latest 1944 eruption from his Army bed. The climb up the flanks was tiring however incredibly rewarding. We all got to the crater and had spectacular views over Naples and the sites of what are now the exposed ruins of Pompeii and Herculaneum. The latter we visited after a stop at an amazing terraced topped restaurant. I don't think we had ever seen Mrs Clementson so rapidly devour her thirst quenched by a drink of the local volcanic spring water!
Well done to us all for keeping cool in such temperatures. Keeping out of the raging sun was essential. I can't tell you how many litres of water and diet drinks we had but being hydrated was essential.
Herculaneum was incredible especially as it was hidden amongst some rather tired looking residential areas of the seaside town. Our special driver Matteo knew every back street and kept us safe from what can only be described as fascinating driving.
In the evening after another restaurant meal we met at Piano del Sorrento where our hotel terraces overlooked the St Peter's beach we had visited each late afternoon.
The volcanic sand was hot and a little abrasive however the sea was so clean and welcoming. The additional purchases made by Mrs Holland and Miss White of lilos and inflatable doughnuts made our afternoon swims even more relaxing.
Whilst we were on the terraces pupils planned their group's responses to the challenges they had been set by the staff. The last night's extravaganza will forever remain in our fondest and most comic memories!! Enough said.
The Thursday of the trip after another not too inspiring continental breakfast (at last supplemented by coco pops), we made our way very early to Pompeii. The vastness of the site took us by surprise, the range of open streets, the homes lost to the eruption was made more real by the casts of both adults and children curled up in natal position, all cowering from the pyroclastic flow which had brought such devastation in AD 79.
The colossal size and detail of the Amphitheatre in Pompeii was outstanding. We stood in the footsteps of the many gladiators who had given all in each of their bloody encounters. You could hear a pin drop except when Mr Watters was trying to quietly teach us about the construction's significance. Pink Floyd's Dave Gilmour had played there and only Mr Watters seemed to know much about them! I think the other staff were too young?
The temptation to go into the new town of Pompeii was defeated by a quick vote as we had an impromptu picnic in the shade of a vast superstore where we purchased absolutely anything Italian, cool and tasty. Some of our concoctions defy description yet we enjoyed them. Another great trip to the beach meant we were able to use the cave lift which conveniently allowed us to cool when the temperatures soared all over Europe many hitting local and national records. We were constantly reminded about sun block.
Our last full day was spent in Salerno and the superb water park. T-shirts were an essential however we were less enamoured with the water park's insistence that we all had to wear hats in the water, not the most flattering aspect of our now non-colour co-ordinated costumes!! We then had our peace disturbed by the blues and twos of the ambulance which rapidly transported Miss White to the local hospital. After another helter-skelter taxi ride Miss White reappeared suitably and literally suited and BOOTED. Miss will forever be known as Madame Das Boot, a tiny slip had caused Miss to tear her ligaments. The evening was spent preparing for our extravaganza after a different terrace and singing happy birthday to two of our group.
The final day was as busy as usual. We found our way via the train into Sorrento itself and scoured the shops and markets for presents and great bargains; most of us sampled the lemon cake famed by the local bakers. A huge quantity of ice cream was devoured by us all, flavours and combinations to die for. Another group meal and we were on our way back to Napoli airport.
Each journey out from Piano was a chance to see the towering cliffs of the much famed Amalfi coast which in places deserves the tag of 'world famous'. Napoli airport was surprisingly calm, we arrived back at Liverpool and thanks to our staff and drivers we were back within minutes of our schedule.
We had a great time and many of us will return to The Amalfi Coast in the future. Thanks to our staff, it was a trip that will never be forgotten.
The staff wish to add that this group of pupils were amazing and exceeded every one of our highest standards. Their friendship as a group marked this Italy trip as extra special.
"We had the times of our lives, we came back having made great friendships, knowing and experiencing so much."
"I didn't think I could make it to the top of Vesuvius, I am so proud of myself and my friends."
"We were tired out at the end of every day and night, we packed so much into every day!"
"The views from our hotel were amazing, my favourite was the visit to Pompeii."
"As a parent, I would like to thank you and your staff for the best trip, *pupil*, had a fantastic time and hasn't stopped talking to us about what *pupil* has done and seen"
"Just to say *pupil* really enjoyed the Italy trip! Thank you to you and the other teachers."