From primary to Priory at open evening
From primary to Priory at open evening
27 September 2019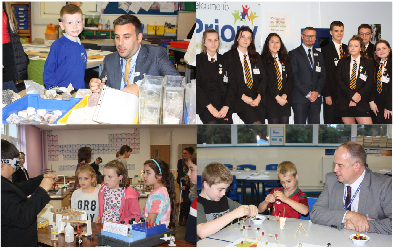 Our doors opened last night to hundreds of children and their families as they began their search for a secondary school. Prefects lined up to welcome our visitors and were eager to show Priory off to prospective families as they guided them round the school.
Year 7 pupils met former classmates who were keen to hear all about their first month at Priory. Newly appointed Head Boy, Colin, and Head Girl, Sasha, joined Mr Eastham on stage to share their experiences of Priory.
Interactive activities were set up in all departments for children to experience Priory whilst parents questioned teachers and pupils. Showcase explosions in Science, puzzles in Maths, bon appetit in MFL, trampolining in PE and so much more. The ICT & Computer Science department took the opportunity to show off Priory's newest facility, the Hex.
Head Boy, Colin, said "Secondary school is no doubt an important part of your life: both academically and in terms of defining you. And Priory works hard to deliver on both counts. We are a community that supports and makes no compromises for its learners. Priory will give you opportunities to develop as an individual, the skills to succeed; the betterment of your character. You'll be encouraged to mature your own unique, diverse personality"
Head Girl, Sasha, was asked to summarise her time at Priory: "My first thought was, that's going to be challenging. How am I meant to describe my four and a bit year journey in just a few minutes and then I realised. Yes, it's a challenge and that's exactly what teachers do here; they challenge every single pupil to achieve their personal best."
The evening was a great success but we couldn't do it without the support of pupils and prefect helpers. We've received many comments from prospective families who named individual pupils for their maturity and guidance during their visit.
Headteacher, Mr Eastham, thanked everyone: "Not only for your efforts on the night, but for the hard work and effort beforehand that goes into making these events such a success. The evening was a huge step towards our collective aim…'To continue to make Priory first choice'."
All pupils who supported the evening were treated to cakes as the school donated, on behalf of everyone, to the MacMillan Coffee Morning taking place across the country today.
Prospective families can experience a Priory day for themselves as we open again on Thursday, 3rd & Friday, 4th October from 9am to 3pm. Our doors open on the hour, every hour (no tour at 1pm). No appointment necessary.