Leon becomes quizmaster for fact fundraiser
Leon becomes quizmaster for fact fundraiser
7 January 2021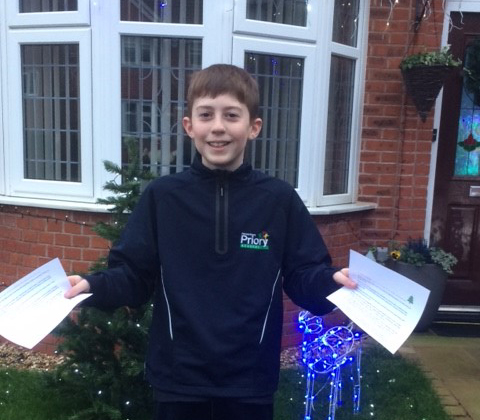 Pupils had fun in their Learning for Life session yesterday as they pledged to support Year 8 Leon with his fundraising.
In return for a 50p entry fee, pupils in Key Stage 3 were given a quiz sheet as Leon went on to read out intriguing questions to Years 7, 8 & 9 over Teams.
Leon is fundraising for Handicapped Children's Action Group (HCAG), a charity that has recently supported his disabled brother, Lewis. Leon wants to give something back to the charity that donated a specially adapted bike to assist his younger sibling.
Leon has already raised a whopping £150 through his neighbourhood Christmas lights campaign.
With the support of Head of Year 8, Mrs Bailey, the pair asked staff to come up with an interesting fact about themselves which, for the quiz, pupils then had to guess whose fact it belonged to. Entries with the most correct answers were put into a draw with the winner collecting a chocolate hamper donated by Deputy Head, Mrs Cowell. Announced in today's full school virtual assembly, the lucky winner was Ben F in Year 9.
After the very entertaining session that got everybody talking, Leon rounded off the event by saying, "Thanks guys for helping with the donation towards the charity, it will really help". Mrs Bailey added, "Thanks very much for everyone's support with this. Leon and his family really appreciate it, as do I. Everybody have a wonderful Christmas!"
You raised an incredible £201.60!
Can you match up these facts with the member of staff at Priory?
Which member of staff ...
has a British amateur weightlifting certificate?
has attended at least 5 red carpet film premieres in London's West End?
made a horse blanket for the winner of the 2012 Grand National, Neptune Collonges, for when he attended the Olympic Torch Parade at Aintree, making the TV news and national papers?
had both the queen and prime minister visit their lessons when they were at school?
has canoed the full length of the fastest flowing river in Britain?
has a twin and was born on April Fools Day?
was giving a full Year 10 assembly when two of their false teeth fell out and landed on the floor 6ft in front of them!
was a professional singer who performed at weddings?
was chased up the stairs at Holyrood Castle by Prince Andrew?
has run the New York marathon in under 4 hours?
Answers:
Mrs Cowell
Mrs Elliott
Mrs Hopes
Mr Taylor
Mr Henshaw
Miss Beesley
Mr Bullock
Miss Ackers
Mrs Yates
Mrs Scully
Tags: Learning for Life