Theatre in education
22 June 2021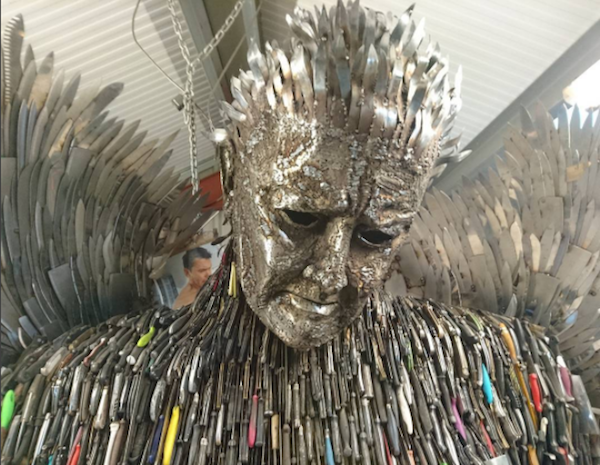 In Year 7 we have been looking at 'Theatre In Education'. Students have been looking at the types of topics that we can educate people on, using performances to do this and how the target audience will affect these performances.
One of our students, Emily J 7E1, had told the class how she had been to visit a statue that was completely made from knifes. Emily went with her family and said "When I saw the angel, it made me feel sorry and sad for all the people who have been victims of knife crime. Some of the knives were handed in as part of a knife amnesty and others sadly had been used to commit murder. Looking at the 27ft tall statue made me realise how many people have become victims of knife crime".
Emily brought in some pictures to show us (as seen below). What an experience this is for someone!
As the lead of Drama at Penwortham Priory I am passionate about not shying away from the issues we face in society, especially those that may still be taboo. I believe we should not be closed minded to learning and educating ourselves on such topics.
As you can see from the pictures this was a very moving experience and creates a lasting impact on our young people.
About The Project
The team at The Ironworks Centre, along with artist Alfie Bradley, discussed the idea of creating an angel sculpture made completely out of knives, to grab attention and bring the issue of knife crime to the front of society's consciousness. The Home Office was contacted, requesting permission to collect knives from police forces. This was in the hope that this co-operation would bring about the introduction of new knife amnesties with The Ironworks Centre offering to supply each force with knife bins completely free of charge. Permission was granted and the campaign took off.
The Making Of The Knife Angel
After contacting police forces and gaining good feedback from their local force and crime commissioner, they started to create knife banks which would be placed in external and internal locations across each forces' county. Amnesties were run and knives and weapons were handed in anonymously. They then would organise a collection from each force to return the weapons back to Shropshire so the creation of the Knife Angel could commence.
In total an incredible 200 knife banks were created in the workshops, all at their own cost. Funding cuts were one of the main reasons police forces just couldn't afford to create knife banks to carry out successful amnesties. Some knife banks even cost over £4,000 to create.
Once the knives and weapons were delivered to the workshop in Shropshire, artist Alfie Bradley got to work. He created a structure out of steel and formed the basic shape which the knives could then be welded onto. Steel sheeting formed the external, organic shape of the angel.
He then disinfected the thousands of weapons that came in - some coming in evidence tubes with bodily fluids on their surface. Knives were then blunted before welding it onto the sculpture. The wings were next created using the blades only, making a feather like appearance.
The Campaign
The Ironworks Centre worked very closely with charities and families who have been directly affected by knife crime and violence. Working so closely with the families has been crucial in raising awareness throughout the campaign. The people who have been directly affected by knife crime have the most powerful voice.
Families who had lost loved ones due to knife crime and violence were invited to engrave an everlasting message on a blade which will be included on the monument. They were astounded at the sheer volume of requests they received and are still working through those everlasting message requests from families across the country who can't travel to Shropshire to see the sculpture in person.

Miss Howell
Lead Teacher for Drama
Theatre in Education
Tags: Drama