Year 7 mark their lines in Geography
Year 7 mark their lines in Geography
13 December 2021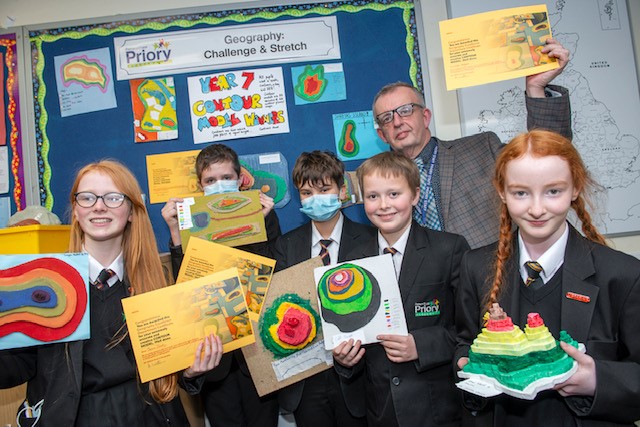 The Year 7 pupils have been using cardboard, wood and paper to make contour models in the annual geography competition.
Lead Teacher for Geography, Mr Watters explained: "Every year at Priory we have a competition across the four houses and in individual classes. It's part of developing their map skills and they make contour models either in class or at home, or both, and try to get the scales and height as accurately as they can.
"It's about creativity and accuracy and they can revisit them in Year 9 and work on them and redevelop them. They will keep adding to them using Ordnance Survey maps and Arc GIS, using satellite images which can be drawn in 3D.
"We have hundreds of entries every year and the pupils enjoy it, planning their models, constructing them, and the best bit... winning prizes!
"It's always extremely difficult to select the winners as it's such a high standard. Pupils tend to use wood, cardboard, paper and fillers and paint them."
One of the winners, Year 7 Jessica, said:
"I made my model with wood and I am proud to win an award for it."
Jasper said: "I enjoyed the challenge of using different colours to show the height."
Caleb added: "It took me around three hours to make mine out of cardboard."
Mr Watters and Head of Humanities, Mr Metcalfe, selected six of the best from each of their Geography classes. The models will be showcased in the department.
Well done to Arrifa-Fatima B, Seth L, Shreya P, Finley K, Chloe R, Hiylie T, Caleb H, Jasper L, Ezra H, Evie C, Freya Y and Jessica D.