Mrs Gidden's cool reader's club - Jake
Mrs Gidden's cool reader's club - Jake
4 January 2022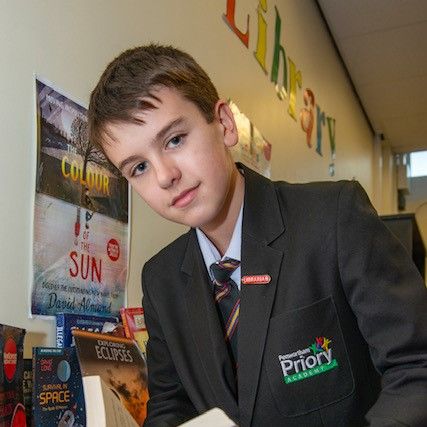 Here's what our Cool Readers Club is all about...
They stopped when Covid first hit but now they're back. These are our reading stars put forward by their English teacher. We interview them about their current book, what they like reading about and what they like to do when they're not reading.
Introducing, Jake...

Jake loves Greek mythology – so his favourite books are about that!
Jake has been selected as one of the English Department's Cool Readers by Mrs Elliott.
The Year 8 pupil is currently reading 'The Blood of Olympus' by Rick Riordan, the fifth and final novel in The Heroes of Olympus series.
"I just love Greek mythology," said Jake. "It's always such an adventure, it's intense, it's a weird and wonderful world and you don't know what's coming next.
"I have read the series before this as well so I don't want to finish!"
Jake's favourite subject in school is maths.
"In the future, I want to build things and work with computers so that's why I enjoy maths."
Jake plays football for Lostock Hall Under 13s which he enjoys: "I just play anywhere on the right hand side."
He also boxes at the Lancashire School of Boxing. He said: "In boxing you are constantly tested and I like that, you are pushed to the limit of your ability."
Jake also admits to being a bit of a fanatic with Rubik Cubes.
"I love them! I can do one in under a minute. I have loads of different ones in my bag. They are a good test!"

Tags: English