Hats off to BTEC Performing Arts pupils
Hats off to BTEC Performing Arts pupils
16 May 2022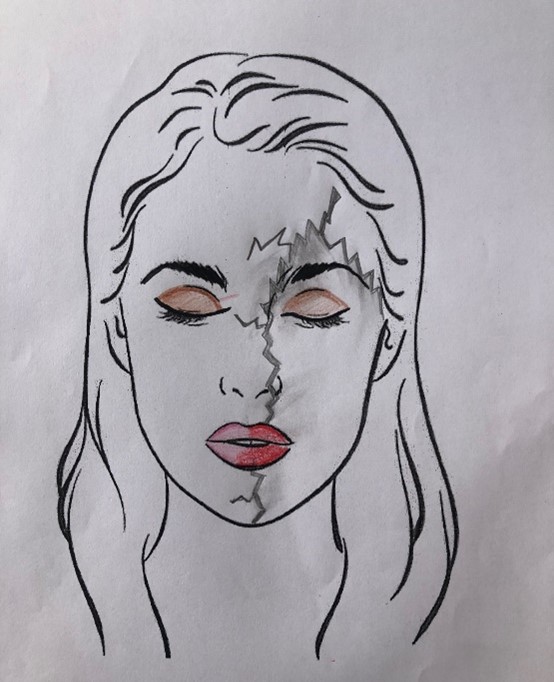 Students have been completing Component 3 in BTEC Performing Arts and a number of students have been taking up the opportunity to become designers.
Year 10 students, Sarah C and Nicole K, have designed costumes and hair and makeup for a character that suffers from depression. As d
esigners, they have had to portray a poignant message to the audience about how depression can affect a person.
Sarah writes ...
"I wanted something to go over her face to look like a veil (at a funeral), so I would put black and grey lace over the cloud and hang a little at the front. Also, I thought to make the raindrops look more like rain. I wanted to make them look transparent, so using crystals, pearls/beads and silver rope gave me the effect I was looking for. With the clouds on the shoulders there are chains hanging from them, this is to show that the weight of all this held inside is dragging them down."
Nicole, says ...
"This time I decided that I wanted to show an element of depression through the makeup and went for a crack down the face. It looks like a piece is missing. People with depression feel like a bit of them is lost and I thought this showed it well, I used an eyeliner pencil to create this as it allowed me to create darker, sharp lines but also be able to smudge it to create the shadow of a missing piece."
"I have used the backcombing technique to create a lift and messy look with the hair and this time pinned the ends up so it created a more fuller look. I then pulled strands of hair out to be placed specifically, over the face. I didn't want to add too many over the face but had two or three to show how."
Miss Howell said:
"I'm so incredibly proud of all Year 11 and 10 drama pupils that have finished their exam and put in so much time and effort.
"Drama isn't just about the performance, it is so much more and without talented designers we wouldn't have the films, theatre, music videos etc that we watch. It is a collaborative effort and requires a talented team."